A dumbbell exercise routine is part of many a workout program designed to build muscle, lose fat and improve overall fitness. But, are you getting the most of your dumbbell training?
Dumbbell exercises form an integral part of most strength training programs. They can be used to develop the various different elements of strength such as maximal strength, hypertrophy or muscle mass, explosive power and strength endurance.
Why Free Weights?
Free weights such as dumbbells activate smaller stabilizing muscle groups to control the exercise. Resistance machines on the other hand, tend to work muscle groups in very strict planes of movement. The downside of this very strict movement is that while some muscle groups will become significantly stronger, other, smaller muscles are neglected.
The other advantage dumbbell exercises have over machines is that they fit around your body so the movement can be performed correctly. Although resistance machines can be adjusted, such as the seat height for example, the movement pattern is still largely governed by how the machine is built.
Athletes typically favor dumbbell exercises over machines as they can replicate sport-specific movements more accurately. They also know that they will develop a more balanced physique and structure if most of their routine employs free weight exercises.
Exercises By Muscle Group
The dumbbell exercises below have been divided into the major muscle groups of the body. There are literally an unlimited number of routines you can put together with just a handful of these exercises. The first step is to determine an outcome – general fitness, increased muscle mass, strength endurance, improved athletic performance for example. Not only will this dictate which dumbbell exercises you select it will also dictate the weight and number of sets and repetitions you choose.
For sample weight training programs that focus on different elements of strength see the main strength training section.
---
Chest Dumbbell Exercises
Flat Chest Presses
Lying flat on bench, hold the dumbbells directly above chest, arms extended.
Lower dumbbells to chest in a controlled manner.
Press dumbbells back to starting position and repeat.
Avoid locking elbows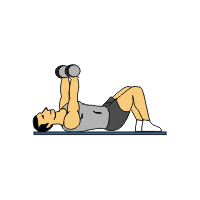 Incline Chest Presses
Adjust bench to an incline of 30 to 45 degrees.
Repeat as above.