Work and other obligations can limit your time with your family. That is why it makes a lot of sense to plan a nice family vacation together with your spouse and kids and spend quality time together especially this Christmas season.
So you want to take a family holiday in Asia? Great choice! Asia is awesome for families. There is so much to discover and experience, and mostly at a very good price! We love travelling and living in Asia from the beautiful food in Penang to the beautiful villas in bali to the adventure in the Phillipines.
However, if you are anything like us, choosing a specific destination in Asia is hard! There are so many great family holiday destinations. We love it here in Malaysia, but we have also loved it with kids in Bali, Singapore, Thailand, Taiwan and the Phillippines – and I am sure this list will grow as we travel to more Asian destinations as a family.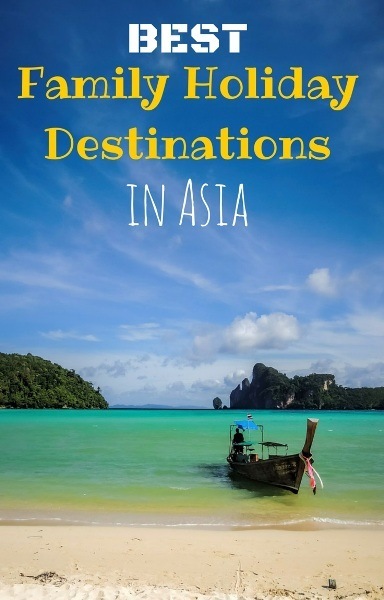 To help make the choice easier, I asked some of my family travel blogging buddies to help you decide! Here are their choices for where you should book your next Asian family vacation…
Malaysia
What's better than introducing your little global citizen to a foreign country? Showing them one that's a mix of different cultures all living and working together harmoniously. Malaysia is a centuries-old combination of Malay, Chinese, Indian, and British traditions. The kids can simultaneously watch incense waft up from the front of a Chinese temple, hear the call to prayer from the mosque down the street, and smell the inviting aroma of Indian food from the cart on the corner. It's like visiting multiple countries all at one time.
Malaysia appeals to the adventurous explorer in kids. Trek the jungle in search of the distinctive Rafflesia flower which can grow up to 100 cm wide and is famous for smelling like rotten meat. In Malaysian Borneo, come face-to-face with semi-wild orangutans in rehabilitation sanctuaries or cruise rivers in search of endangered proboscis monkeys and river dolphins. Visit cultural villages to learn about now-forbidden tribal ways like headhunting, and let the kids try out how well they do with a blow dart. In Kuala Lumpur, climb 272 steps to the Hindu temple built high up inside Batu Caves.
Children who enjoy modern sights will want to head up to the Skybridge of the Petronas Towers, the tallest twin towers in the world. If that isn't enough, spend a day or two at LEGOLAND Malaysia, just across the border from Singapore. The water park, themed hotel, and amusement park rides will undoubtedly keep them entertained. Make sure to leave time to wander through Miniland Asia with models of everything from China's Forbidden City to Cambodia's Angkor Wat, all built out of LEGOs. With a visit to Malaysia, your kids will feel like they've travelled to more than just one country.
Contributed by Michele Chan-Thomson, Malaysian Meanders
Hong Kong
I think Hong Kong is the best Asian city to take kids. My reason for this is that transport is fantastic and it is very easy to get around. The MTR (train system) is user friendly and you can get everywhere you want to go. Octopus Cards for this service can be purchased at the airport and any money will be refunded when you leave.
English is widely spoken and understood in Hong Kong. You will always find someone that understands and is able to help. The locals love western children and go out of their way to make the kids feel welcome. Feeding the fussiest kids is also easy in Hong Kong. There are plenty of places to eat including all the western take away outlets we are used to and my kids ate traditional Chinese dumplings at least once a day. There is no issues with food – you are able to eat anywhere unlike a lot of other Asian countries.
See more: http://www.wheressharon.com/asia-with-kids/best-family-holiday-destination-in-asia/